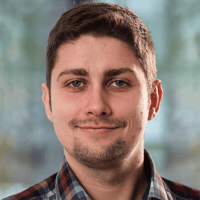 What makes work rewarding? Being able to challenge yourself, learn new skills, and truly get the most out of your career. Career progression and the ability to advance professionally in your field, is a priority at ThoughtWire - both for our employees and the company as a whole. Today, we highlight Christoph Rieger, a Solution Architect. Christoph's career which has transitioned greatly over the years, shows us the importance of career development, and how it can benefit both personal and professional advancement.
How many years have you been at ThoughtWire?
A little over 2 years and 2 months
What has your work history and progression of roles been - you weren't a Solution Architect this whole time right?
Far from it, I began as a Technical Support Specialist in 2018, then Technical Support Lead by 2019, to my current role as a Solution Architect now.
What is a Solution Architect?
Solution Architects connect with the client and internal tech team to solve external customer challenges, working closely with both sides to architect a solution, and make sure the needs of the client are being successfully met.
When planning out your career path, where did you see yourself going? How does your current position align with that?
Careers in IT are seldom straightforward as technology evolves and a skillset you own today may not be the one you need tomorrow. Graduating post-secondary, I anticipated that I would become a software engineer. Instead, I learned that system engineering and operations are the areas I'm interested in. This allowed me to learn about how different solutions work together as well as getting to know processes for Operations, Change, and Delivery. This gave me a fairly holistic overview of the many different teams involved in product delivery and how they work best to provide value to a customer.
What do you want to achieve with your career, and how has ThoughtWire helped you in that journey?
After becoming a permanent resident of Canada, my goal was to pick up my career where I left it in Germany - which is not always easy as an immigrant. I had a gig in Charlottetown, PEI that just didn't end up being a great fit, so my partner and I moved to Toronto which ultimately led me to ThoughtWire. As a member of a smaller organization, you have to wear many hats and collaborate across teams to coordinate requests among multiple customers. ThoughtWire has helped me write my own career path, and build continued trust with many great team members.
Your career has progressed with ThoughtWire over the years, what motivates/excites you to stay here - rather than look for other opportunities?
We have a lot of passionate team members, willing to share experiences and knowledge to elevate the whole team. Working for ThoughtWire enables me to never do a boring task twice. If you see opportunities for improvements, you are actively encouraged to implement changes. Lastly, working at ThoughtWire is simply rewarding. Whether it's the opportunity to apply newly-learned skill sets, or the raw statistics on how much our solutions improve the everyday flow in healthcare and built environments.
Are there challenges to changing your career over time? Pros to this?
I took a lot of classes in different technical and interpersonal areas, but transferring this learning was not always easy and won't always lead to a new job. This can be a challenge especially after committing multiple months of work after hours. Ultimately it's your challenge to transfer and apply the new skills on everyday projects to progress. There are many pros to changing and developing your role as well, like working with different teams, shifting projects, solving challenges every day at a startup; you get to also learn so much.
What is your favourite thing about working at ThoughtWire?
Smaller startups allow for the opportunity to learn and progress, ThoughtWire is a great place to receive mentorship or offer advice and mentor in return; you get to work in many areas, tackle different issues, and challenge yourself as a person. The best thing about working here, is that everything you do has meaning, and you can see your actions unfold in real-time. You get to grow into your roles, and learn new skills, which will greatly benefit you in the long term.
The joy of career advancement and developing your profession over time, comes from the ability to look forward. Looking forward to new opportunities, new skills to gain, and new challenges to face, is what makes a career rewarding. Christoph's experience at ThoughtWire is an example of how you can develop in your career, if you work hard and have the support of your company to enable your growth and advancement; never limiting you on the heights you can achieve.
Looking for a place where you can truly contribute, innovate and be inspired? We think you'll love it here. Check out ThoughtWire's career page.