In our last blog, we discussed how two of ThoughtWire's core values - innovation and collaboration - allow us to drive value for our customers, encourage passion within our team, and focus on our long term vision.
Innovation and collaboration are a great start - but the next three - humility, empathy, and community, help us shape the inside of our organization into a true "people first" team, and one of the best places to work in Toronto.
We believe that when we foster lively, rich and resilient communities built on fairness and equity, we all benefit. Developing solutions and products that are socially innovative helps our business thrive and makes the world a healthier, safer, happier place.
"At ThoughtWire, one of the most important things that help us foster our resilient and passionate community is open communication. There is no question too small or too big, no opinion that should not be expressed, and no idea that should be ignored. Everyone has a voice, and are encouraged to use it.
Within our company, this helps individuals learn and grow, both personally and professionally; it also results in meaningful contributions to our products, and organization as a whole. Open communication also extends beyond our walls, to our customers and partners. We engage in an open dialogue, where we appreciate feedback, explore possibilities, and strive to meet their needs in a way that is mutually beneficial. Communication is key to fostering our community."
- Brian Mouallem (Developer)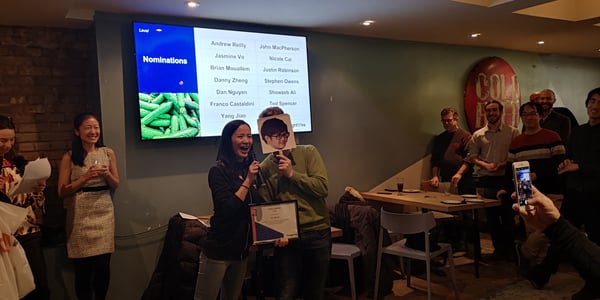 To us, humility means being respectful, truthful and confident but never arrogant. This is important when developing innovative technology, and to ensure we stay ahead of competition. It means establishing our credibility through predictability and integrity. In the young and developing Smart Building industry, it's easy to make promises that can't be delivered, or constantly overuse buzzwords just to make a sale.
At ThoughtWire - we establish our credibility through satisfied customers, and the end results we deliver today. Humility has to be internal as well - it means acknowledging our own strengths and skills, while learning from others and seeking out new knowledge. When everyone on the team's word carries weight - it becomes easy to rely on each other for new ideas, feedback, or help when you need it.
Understanding the needs of our internal and external clients is deeply important at ThoughtWire - so our last, but not least, core value is empathy. We develop our products based on feedback we hear from our potential end users.
When clinicians said they experienced delay in getting appropriate response in critical events such as cardiac or respiratory arrest - ThoughtWire helped implement a mobile solution that predicts and prevents these events with EarlyWarning. Hospital portering services are generally a difficult workflow to manage, resulting in wastage of resources and time - so we created SynchronizedOps to enable hospital staff to provide faster and better patient care. When we can see the world from other people's perspectives, we can develop better solutions for everyone. Our compassion drives our commitment to putting people first.
"Our goals are really clear: to make the end user better in every interaction. Our people are eager to engage with individual users, understand each work process and see the skillful work-arounds for the practical problems users face each day. Our product development approach prioritizes creating working solutions quickly then refining our understanding of the problem working with the end users in mind."
- Stephen Owens (CTO)