ThoughtWire recently attended and sponsored the HIMSS Big Data and Analytics event in Boston on October 22nd.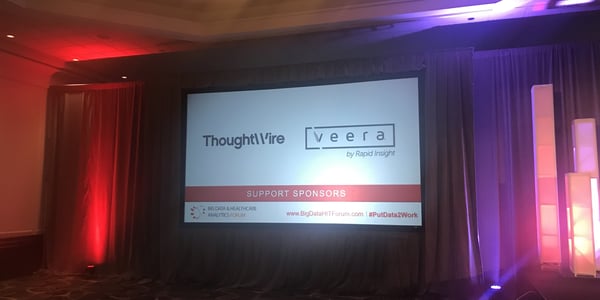 The event consisted of early adopters, innovators, healthcare IT and clinical professionals who came together to share data strategies, how they're driving innovation, reducing costs and improving care through data and analytics.
It was a great opportunity to connect with leaders and innovators in healthcare delivery, several topics were explored from the challenges of big data to precision medicine.
For those who couldn't attend here are the key takeaways:
The academic side of the healthcare industry is embracing disruptive technologies - however it is evident that some existing healthcare providers are hesitant to adopt. This could be due to a lack of knowledge in the possibilities and applications of data driven technology.

Privacy as in most industries is a big concern. In particular there are concerns with the data generated from wearable technology - how is it packaged, sent and stored? How is it to be interpreted in its raw format?
People can envision the benefits of big data, cloud storage, deep analytics, but the uniqueness of facilities, geographic location, countries etc makes it tough to come up with "generic outcomes". Even insight generated from applying AI would face bias depending on where the data sets came from. Information leaders are posed with a novel challenge - creating and measuring the common KPIs across a geographically distributed health system.
There is an uptick of interest in population health - such as Social Determinants of Health (SDOHs) which are becoming easier to capture - especially through non-healthcare applications such as Facebook.
The concerns about data generated from IoT and data driven applications are valid - many IoT devices in healthcare are more gimmick than results focused, many solutions miss the need to operationalize information in context of a complex graph of data from a variety of systems. The key to ThoughtWire's OPM applications is the semantic data relationships of the smart hospital digital twin that serves as a common data foundation.
Hamilton Health Sciences (HHS) implemented our emerging technology to drive results, connect data points, and ultimately save lives.
Check out our case study with HHS to learn how they reduced code blues by 62%.