To celebrate International Women's Day, we're highlighting this year's theme #BalanceforBetter by asking a few of our working moms what balance means to them.
Nargis Akter, Test Analyst
Q: How has being a mom changed your career?
A: Being a mom hasn't changed my career much, since I had many helping hands and a flexible work schedule. It did however make me more organized, punctual and more proactive in my job so that the job didn't follow me home - this used to happen often. Of course, everyday my mind is in a rush to get back home but I don't think that ever had any impact in my career.
Q: What does balance mean to you in your work life?
A: I feel balanced when I love and enjoy what I am doing without ever feeling pressure from my coworkers to compromise my personal life. Getting to work around a flexible schedule definitely helps too.
Nicole Cai, Director of Technical Services Group
Q: How has being a mom changed your career?
A: It makes me love my job more. Now I can say there are things more stressful than work! (laugh...) Honestly, I am fortunate to have a job that I am passionate about and that is flexible enough so I can spend a good amount of time with the family. I would be lying if I told you I am not tired, but I am satisfied.
Q: What does balance mean to you in your work life?
A: To me, balance is more of a healthy mental state than actual timing. I think I am in a good state. I can't imagine me being a full time mom nor working full time without taking care of my baby. The two parts complement each other. My daughter knows how to make me laugh after my long day at work. I don't know if it will change once she becomes a teenager though.
Ekaterina Burtman, Platform Test Lead
Q: How has being a mom changed your career?
A: Becoming a mother gave me a new perspective on what is important in life, and a bigger set of responsibilities to juggle and manage. Career had to contend with family life in a way that was difficult for me at times to properly reconcile, particularly when my kids were very small and dependent on me.
Q: What does balance mean to you in your work life?
A: Having little kids while working full time forces one to make decisions on a daily basis - sometimes on an hourly basis (for example when working from home if the kids are sick) - which task to prioritize. It helps a lot when your employer supports staff by offering flexible hours or working remotely a couple of days a week. These things are crucial for achieving work life balance and keeping energized throughout the year. To sum it up - kids and work do offer a bit of an escape from each other. They also enrich one's life. Things are very hectic and time is always lacking - but you feel more rewarded and happier all the same.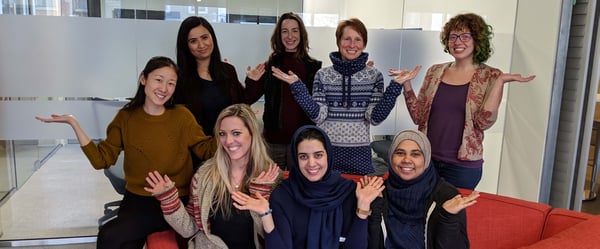 These candid insights provide an opportunity for us to reflect and ask ourselves whether we have the right support systems in place. First, it confirms for us the importance of offering flexible hours and opportunities to work from home. At ThoughtWire, we believe that this flexibility not only improves work-life balance for current employees, it also helps us attract a more diverse range of candidates. Our engineering team is currently 36% female and our aim of having a more gender-balanced workforce starts by understanding that there are many reasons why someone may need or want flexible work arrangements.
We also reflected on how the demands of motherhood give rise to needs beyond having a flexible schedule, such as additional mental health support. As part of ThoughtWire's commitment to the wellbeing of our employees, this year we implemented an Employee Assistance Program, and also expanded the list of eligible paramedical practitioners covered under our extended health plan. It now includes psychotherapists in addition to social workers and psychologists.
There's certainly more that can be done to support working moms and as a company, we will continue to keep this demographic in mind when thinking through which accommodations, perks and policies will work best for us.
We hope these personal stories provide perspective and help raise awareness to inspire further solutions for gender parity. #BalanceforBetter