ThoughtWire hires a new group of interns every term, providing opportunities for learning, collaboration, and professional development. This summer, ThoughtWire had the pleasure of working alongside eight students from Seneca College, McMaster University, the University of Toronto, and the University of Waterloo. These individuals brought great value to TW's technical services group, development, customer success, and marketing teams.
First up in part 1 of this series, we have Eitab Dabbous from the Customer Success team, Carly McLeod from the Marketing team, and Cathy Nassralla and Sharon Shaji from the Technical Services Group team.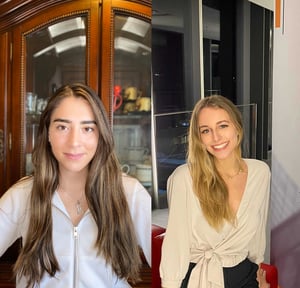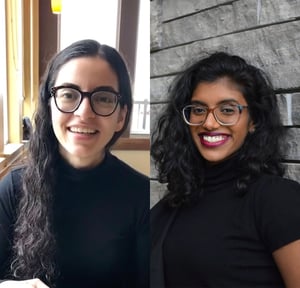 What is/are the top skill(s) you've learned while working at ThoughtWire?
Eitab: The top skills I gained while working at ThoughtWire include troubleshooting as well as how to navigate cloud technologies. I also learned to be more adaptable - working in tech, we all know that things can change very quickly; therefore, learning to prioritize tasks and responding quickly to changing circumstances are fundamental skills to have.
Carly: I've learned a variety of valuable skills throughout this term. I enhanced my design skills, content writing skills, and my ability to create a structure for new content based on research that I carried out. Also, I gained further insight into the day-to-day activities of a marketer and all the tools, strategies, and platforms used to deliver digital content that is consistent with messaging, tone, and branding guidelines. Most of all, due to the remote nature of this internship, I learned how to be more independent of my projects while still communicating and collaborating effectively.
Cathy: I learned how to organize myself and stay transparent and collaborative with the work that I do independently, despite being slightly disconnected from colleagues. This experience taught be to be deliberate with my interactions with my colleagues as it required.
Sharon: Working as part of the team has allowed me to gain many valuable skills. I have been able to work on building knowledge based skills when it comes to working collaboratively to build out a product that showcases TW platform capabilities. Additionally, project management skills such as effective communication and organizational skills, were developed.
What was your favourite part of your job?

Eitab: I appreciated that I was always given a variety of meaningful tasks and treated like I was a full-time employee - I felt like I was part of the team right away! Whether I was writing documentation, mapping devices to PrecisionHub or customizing the @WorkApp demo, I gained valuable experience and skills from each one of my tasks. I also had the full support of the team to explore various topics and to tailor tasks to my interests, and was thankful that I had the opportunity to collaborate with others, including those outside of my team.
Carly: I really loved that there was always something new to learn, especially with access to HubSpot academy, I explored a variety of different marketing-related topics. I also enjoyed the variety of projects that I got to take on which gave me the opportunity to strengthen my skills of interest. For example, I tackled projects that targeted my content writing and design skills, which will continue to be very valuable to me in the future. Lastly, collaborating with different people across the company to deliver content was another highlight for me. Everyone here is super supportive and always willing to lend advice, feedback, or a helping hand.
Cathy: My favourite part of the job has been how welcoming and collaborative the team has been. That also includes the larger company and individuals from other teams. The team is very helpful and nurturing, with regular education sessions to understand our platform throughout this experience. That has made this virtual, pandemic work experience as great as it could have been.
Sharon: My favourite part of the job was being in an environment where I am constantly learning more about the technology, and challenged to step out of my comfort zone. I also enjoyed being able to work collaboratively in an Agile environment, where I felt supported by my team members but at the same time had the ability to work independently.
What was/were your favourite moment(s) from your co-op term?

Eitab: My favourite moments were social events like Thirsty Thursdays and the Friday intern meetups.
Carly: Although this term was online, I liked that there was still a strong sense of community within the team. Tuning in for thirsty Thursday's, culture club meetings, and the weekly Intern meetups were always fun to see what everyone was up to. Also, the weekly "test your knowledge" quizzes always excited me and it was a nice way to take a break in between tasks.
Cathy: My favourite moment so far has been our TW Photo Hunt challenge, which was a team based activity that involved a team of people from across the company and two provinces collecting photos that represented something about each team member. It was loads of fun and a great virtual team building activity.
Sharon: My favourite moments from the co-op term would be the TW culture club online event. Having these events gave me the opportunity to feel as if we were in person. It also helped to get to know more about those who are part of the company!
What advice would you give to future co-op students?

Eitab: Your internship is really what you make it, and the time goes by much faster than you think it will. My advice is to approach all tasks with curiosity and to not be afraid to ask questions or make mistakes. Ask for feedback from your colleagues so that you're aware of how to improve your skills, and make an effort to actually get to know your colleagues better by attending the social events.
Carly: Ask questions! Don't be afraid to ask for help or clarification when you need it. In any new job, things may seem tricky at first, but there are many people here to support you and help you learn. Also, take advantage of every opportunity to learn new things that you're interested in! Be sure to communicate what you want to learn more about so you can get involved in projects geared towards that. Lastly, I highly recommend collaborating and making an effort to connect with others across the company.
Cathy: I would advise future co-op students to openly receive learning experience but to seek them out as well. Identify what you want to or need to learn and take from your co-op program and verbalize that to your managers and supervisors, so they can keep an eye out for those experiences.
Sharon: Do not be afraid to ask questions both in the beginning and throughout your internship. Try your best to learn as much as possible but also build meaningful relationships with your colleagues.
What was your experience as an intern during the current situation (COVID-19)?
Eitab: My experience as an intern during the pandemic was as seamless as it could've been. Although I would've loved to meet everyone at ThoughtWire in person, I was still able to make a genuine connection with my peers despite the current situation as well as complete tasks thanks to the team's consistent support.
Carly: Going into this term, I had concerns about working and learning remotely. But, this experience has been a really great one. With the help of tools like Slack and Zoom, communication was easy, I learned a ton, and always felt supported by the team. On the other hand, it's easy to feel cooped up when your bedroom and office become the same space, so I made the effort to sit outside and get fresh air most days after work. I also think time management and eliminating distractions became super important in staying focused this term.
Cathy: At first, it was strange to work remotely and it was a little difficult connecting with other coworkers. However, with several virtual social events and intentional face to face virtual meetings, it was easier to connect and build rapport with other co-workers.
Sharon: It was different at first especially with onboarding, but having a supportive team with open communication channels made the transition to online work much smoother. It also helped having weekly touchpoints on Fridays with other interns to catch up about our weeks!
If you are interested in joining our team, please check out our career page.