Welcome to the second instalment of our intern interviews. In this post, we are chatting to Matthew Balkaran from Customer Success, Shelby Tse from Marketing and Arian Nedjabat from the Product Management team.
During this term, they had the opportunity to work on various tasks such as supporting and configuring internal service for customer success and engineering teams, supporting the marketing team with related materials, and analyzing data to better understand our users and product direction.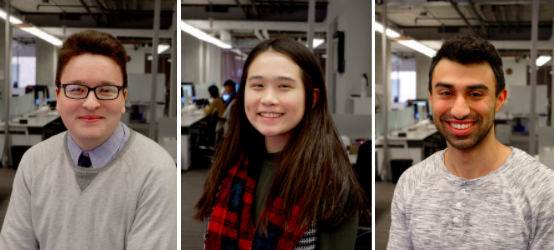 Here's what Matthew, Shelby, and Arian had to say about their experience working at TW.
What is/are the top skill(s) you've learned while working at ThoughtWire?
Matthew: I would say collaboration. Throughout my time here I've worked with many different people. This has ranged from being involved in troubleshooting or contributing directly to a project. In any circumstance, I've found the importance of communicating with one another to ensure everyone's on the same track. With that, I've also learned the importance of developing documentation so that both those involved or not involved have a point of reference as to what was done along with further insights.
Shelby: One of the top skill that I learned at ThoughtWire would be leadership. It taught me how to handle more projects. I learned to reach out to the right people in the company and to collaborate to finish different tasks. I was a bit unsure at first, but everyone in the office is supportive and helped me along the way. After a while, I could handle projects more comfortably, which I think is beneficial to my future in many ways.
Arian: Taking initiative is one of the most important skills I learned while working at ThoughtWire. They treat you like a full-time employee, so you are given a lot of freedom and responsibility. Initially, it was a bit challenging for me since I was not used to having full control over the work I was responsible for, but slowly over time, I learned what needed to be done and made sure I took the necessary steps to finish the task.
What was your favourite part of your job?
Matthew: Favourite part of the job was definitely the variety of work I got to do. I really appreciate being able to work with different tasks that ranged from writing scripts to working on internal infrastructure. I feel like I got to learn a lot because of this and It made my day to day work at the office feel refreshing and engaging.
Shelby: One of the favourite parts of my job is that I can keep learning different things, explore what interests me, learn more about the products, understand different teams in the company and so much more. It's fun every day when you can learn so many new things, it felt like I never stopped learning and improving during this term.
Arian: My favourite part of the job is the freedom to pursue your own work. If you want to work on something because you think you will learn a lot from it, you have the full support of the team to help you do it. As an added bonus, most tasks can be translated into meaningful contributions to the company and the technology they're working on.
What was/were your favourite moment(s) from your co-op term?
Matthew: Some of my favourite moments were during the various events the company hosted. Everyone at the office has been very chill and fun to talk to, so I really enjoyed the moments where a bunch of people got together to do something. Whether that was playing an escape-game or just chatting with others over bagels on a Friday, these moments were really enjoyable.
Shelby: Some of my favourite moments would be the time where we had board game nights, lunches, and bagels every Friday with the team. I also enjoyed talking to different people in the company, getting to know each other and what they are doing. Friday lunches with the other interns are also fun, as we explored different restaurants near the office every week.
Arian: My favourite moments from my co-op term are the Friday lunches the other interns and I arranged. All of us interns go out for lunch together every Friday and it provides a nice pause for us to catch up with one another and enjoy the day.
What advice would you give to future co-op students?
Matthew: The best advice is definitely to try to make the best of your time. The internship will go faster than you know so try to take advantage of every opportunity you have here. Try working on different projects, learn all that you can, and don't be afraid to talk to your fellow co-workers there! Above all, try to get involved and have some fun while you're there!
Shelby: My advice is to be brave and ask many questions. It is a learning opportunity so the more we ask, the more we learn. Everyone at ThoughtWire is friendly and will answer any question, from work-related to life-related questions. Anything!
Arian: I would tell future co-op students that if you want to work somewhere where you want to learn a lot and have the freedom to pursue your own ideas, ThoughtWire is a great place to be. However, just be sure you're willing to put the work in to see it through to the end.
What was your experience as an intern during the current situation (COVID-19)?
Matthew: Working from home has been a bit conflicting. I do enjoy the benefits that come with WFH but it's not something that I'd want to do permanently. I did find myself missing simple stuff like the office environment although the circumstances leading to work from home weren't really avoidable. Being a co-op in this situation has felt interesting. I feel as though work from home option is normally not something you're exposed to early on so it's definitely been insightful. That said, I appreciate that I was still able to work as per usual and contribute to various tasks while working remotely.
Shelby: The transition from working at the office to working remotely was super smooth. Since my team already included some remote members, we were used to doing video meetings on a regular basis. My team gave me lots of support and checkups while working from home to ensure we are here for each other if we need anything, and that we are all working on what needs to get done. In this experience, I definitely learned that ThoughtWire cares not only about everyone within the company but also about the community. Members of many teams would discuss ways to serve the community. I would say I am grateful to be an intern here, in a company that cares about the community and people, showing love and care.
Arian: Working from home is a lot more enjoyable than I initially thought it would be. The flexible hours reduced commuting time (5 min from my bed to my desk) and constant support the team has given us to ensure that this term is still productive and fun has made this experience significantly more fulfilling than it would have otherwise been. I am very thankful for all the hard work the team has done to accommodate us during this unprecedented time.
We value every one of our interns. We believe these students are important to our teams not only because we can grow stronger together but also keep innovating and sharing fresh ideas with each other! It was a privilege for TW to have such great students working for us during the winter term. Together, we accomplished a lot and made many wonderful memories. We look forward to welcoming our new interns in the summer.
We are always looking for talented people to join our team! Please check out our career page if you are interested.