In our last instalment of the "TW Internship Experience - Winter" series, we will be highlighting the experiences of Maggie who worked as a Sales Intern in Marketing, Mehdeep who worked as a System Support Intern in Customer Success, and Monish who worked as an Interim Delivery Consultant in the Technical Services Group.

During their time here, they had the opportunity to touch on various parts of the organization such as supporting the roll-out of the E-Whiteboard at St. Michael's Hospital, automating and configuring the log file management/retrieval for Customer Success and Engineering, and supporting the Sales Director in prospecting leads.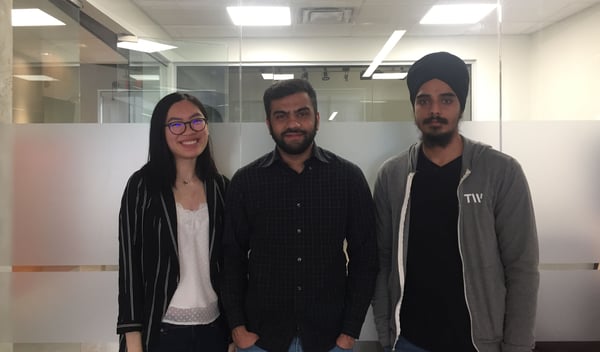 1) What is/are the top skill(s) you've learned while working at ThoughtWire?
Maggie: An important skill I learned is communication, especially when working with remote members. This was the first time where I worked in a team where half of them weren't working in the office. This was definitely a challenge at first because of the time difference (Toronto and Vancouver) and the lack of face to face interactions. However, I quickly adapted by setting up regular 1:1 video meetings to ask questions and utilizing tools such as Slack to communicate with them.
Mehdeep: Team work. Collaborative work is one of the supporting pillars of ThoughtWire and I feel that team-work is one of the topmost skills that I have learned thus far in my term. Contributing to three teams, I have been involved in discussions and planning which helped me develop a better understanding of the practices adopted by different teams and enabled me to adapt to their working style to assist efficiently.
Monish: The top skills I've learned & improved on while working at ThoughtWire would definitely have to be my time management and flexibility/adaptability skills. Given many different tasks throughout the term, I learned the importance of allocating appropriate time to each task based on their urgency and learned how to manage any new issues/deliverables that came up while still delivering on my other tasks.
Aside from that, I also learned through shadowing team-mates about how to manage the launch of a product, ranging from the initial planning & kickoff stages, engineering team efforts, testing, all the way up to the launch.
2) What was your favourite part of your job or favourite moment(s) from your co-op term?
Maggie: My favourite moments have to be Friday mornings. On Fridays, we have a tradition as a company to buy fresh bagels and pastries from the St. Lawrence Market. Each Friday, the other interns and I come together to pick out a bagel and chat. It's a great time for us to catch up for the week and talk about our weekend plans.
Mehdeep: Probably moving my desk in my team's space? I used to sit apart from them but after eventually moving closer, I was able to communicate effectively and be more aware of the team's current priorities and challenges.
Monish: One of my favourite moments from this term would have to be the different lunch & learns(L&L) that I was able to attend. I had the chance to attend L&L's focusing on many different topics, including writing effective user stories, AWS integration, and even one on effective hand-washing techniques. I really enjoyed these as they were very informative on different topics that I was interested in, and I was able to learn about completely different topics to improve my skills not only in the workplace but also in my personal life. Also, they were very entertaining and were a good chance to spend some time with other company members.
3) What advice would you give to future co-op students?
Maggie: Socialize with everyone! Working in the marketing department requires me to know a bit of everything within the company. By talking to the people that actually create and build the product, I have a better understanding of what I'm marketing. Also, you never know when you may need help with writing a blog post from the Development Team or the Customer Success Team.
Mehdeep: Don't be afraid to ask. As I was told by my team, there is nothing such as a 'Dumb Question' or an 'Invalid Question'. It's better to ask than to make mistakes. It is a learning process for us so consequently, questions may arise, but it is important for us to capitalize on that learning opportunity by seeking adequate knowledge. The best method to do that is by asking questions when something is not clear. It is better to ask even when things are clear, just to be sure that you don't miss a critical piece of information that may further break the functionality at a later point of time.
Monish: The advice I would give to future co-op students is to work on projects/tasks that involve collaborating with different departments within the company. Through collaborating with the Engineering, Strategic Initiatives, and Marketing teams, I gained a better understanding of how each team functions and the effort involved in building and delivering a product. It's a great opportunity to network and meet people in different teams. It also helps in forming new friendships, which makes the co-op term a lot more enjoyable.
Want to join our team? Please check out our career page.