Did you think a Digital Twin has to be a visual representation of the built environment? Not necessarily. Don't miss our panel discussion at this years conference demystifying what does and does not constitute a Digital Twin. Meet the team at booth #1413 to learn more about how ThoughtWire's Digital Twin is unlocking a truly seamless workplace experience for #CRE.
ThoughtWire is excited to announce that we'll be exhibiting at Realcomm/IBCON 2019 - 13-14 June in Nashville. This year we're taking our award-winning Digital Twin technology to the leading conference focused on the topics of technology, innovation and automation for the Commercial and Corporate Real Estate and Facilities industries.
This year's theme focuses on how everyone in an organization needs to fully understand how this next chapter of the digital revolution will affect their role as well as the organization as a whole. It is time to REcalibrate, identify the challenges, embrace innovative ideas and discover new opportunities in the way we design, build, lease, operate, transact and use Commercial and Corporate Real Estate.
It's a busy two days so schedule a meeting ahead of time with our team.
Taking the Digital Twin South
We believe our Digital Twin Technology can transform the way people utilize and experience their built environments. By having real time access to building information from a single source of truth, building operators and occupants can unlock the value of the data around them and greatly improve their workplace experience.

Don't miss our panel discussion BIM vs. Digital Twin June 14th at 10:45 am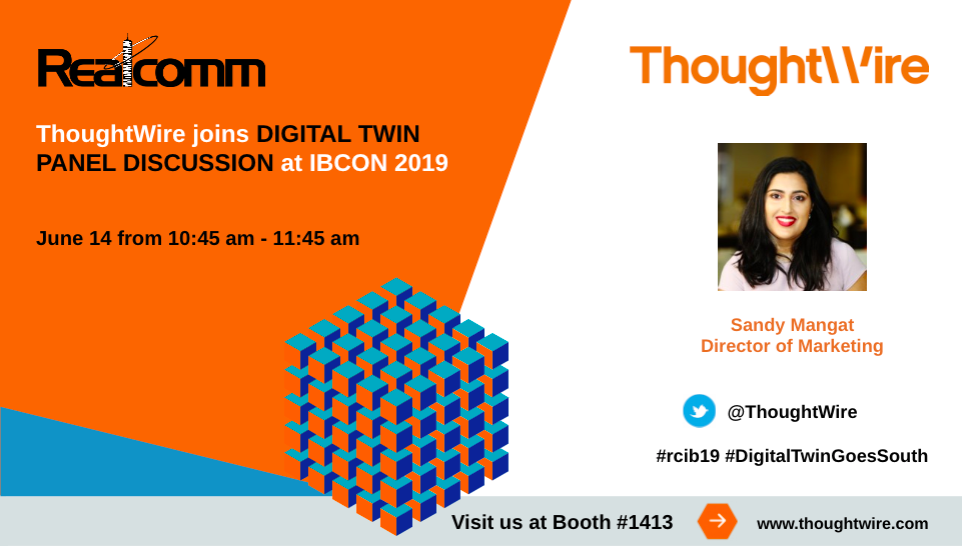 The idea of visualizing data related to a building is not a new topic. Building Information Modeling (BIM) has been an active discussion for decades, with few organizations taking this concept from the design phase all the way through to operations and maintenance. While Digital Twins have been around since the 1970s the topic has picked up steam with CRE leaders in the last 24 months, some would argue advocating for some of the same benefits of BIM. This instructive session will define the differences or similarities between the two, talk about the various uses throughout the entire lifecycle of the property, discuss the realities of integrating visualization engines with various data sets, and bring to light the most relevant, practical and successful case studies surrounding building data visualization.

Add this event to your calendar, don't miss Sandy Mangat, Director of Marketing as she demystifies the similarities and differences between these two very important technologies. Check out her blog post on the same topic here.