The term Smart Building isn't new but the definition has evolved from the early days of its inception. No longer does the Smart Building only entail connected systems and networked built environments but it's become more philosophical – how do Smart Buildings support the future of work.
Smart building initiatives have become more about improving everyone's overall experience interacting with a built environment rather than mere building efficiency or sustainability programs – going beyond simple analytics of subsystems to unlock true digital transformation of commercial real estate.
Thought leaders in the space have been thinking about the implications of these market forces and the potential of emerging technologies like IoT for several years. Often these firms have struggled with the challenges inherent with digital transformation – interoperability, operationalizing data, and change management.
Oxford Properties, a forward thinking organization in Real Estate with a diverse portfolio of properties, began thinking about the disruptive forces seeking to change their industry about 8 years ago. Matthew Lennan, Innovator in Residence, who works as part of Oxford's innovation team said the process began by "working collaboratively with Cisco, to create two documents in an effort to begin thinking about what defines a Smart Building and what standards should be in place to execute against the strategy."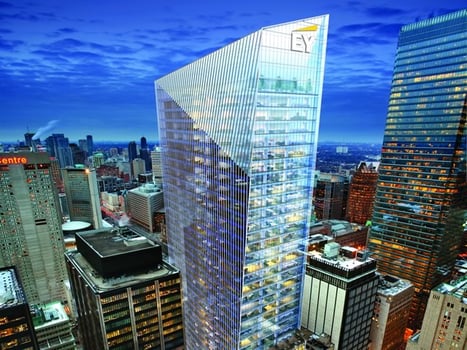 The standards served as a guideline to define goals for a broader smart building strategy, namely to lower operating costs, improve operational efficiency and perhaps most importantly, improve the tenant experience. In defining these standards it became apparent that technology decisions made will have major impact on how these goals are achieved.
When considering the implementation of smarts for a new building in downtown Toronto, Oxford worked closely with ThoughtWire to help define what this Smart Building would look like and what it could achieve.
However, as is the case for other organizations embarking on digital transformation a few common challenges exist.
Challenges in unlocking value from a connected building:
Building plan included a number of disparate systems and assets tied to point analytics solutions and application dashboards
No single pane of glass view to allow for remote operations
Tenant experience applications are often siloed and not connected to building operations systems
Interoperability surfaced as a major challenge due to data diversity, complex relationships between subsystems, people, and process, and lack of automation

Lack of context and personalization in existing solutions so information not getting to the right people at the right time