Transcription of Q&A from our webinar with CRE Tech - Available here. The webinar featured our CCO - Franco Castaldini and Mark Nahorniak from Oxford Properties.
How is ThoughtWire different from a BMS?
A BMS system is going to give you very limited control over your building's assets, such as your HVAC system. We're going to give you broader visibility and control across number of subsystems. Why is this beneficial to you? It's going to allow you improve your overall building performance across different systems and give you context, which is tied back to the outcomes you're looking for.
The control and data availability can be funnelled in a way that's very usable for property managers, operations staff, as well as your tenants. In a typical BMS you'll be able to control the systems individually and very mechanically but won't be able to give feedback to tenants in real time combined with context.
The integrations are what really give you the ability to understand elements such as your mechanical load, plug load, light load, and be able to take those back and really show tenants and staff what actionable insights can be derived.
This gives tenants control, and the abilities to adjust to their preferences and better improve their energy footprint and experience. A BMS cannot give that kind of control without causing a variety of problems. With this architecture you can have customizable level of control without sacrificing the control of the building management system.
If I have a lot of legacy systems can I still use a digital twin strategy or is it just for new buildings?
Our solutions are for both existing and new buildings. However - the more data that you can collect from your subsystems, sensors, and devices, the more powerful your digital twin will be.
One of our clients is going through this with one of his existing buildings - he is looking at other investments which enable ThoughtWire's applications to provide a broader set of control over the buildings operations. If you do have an older building that's lacking connectivity, sometimes to realize the full value potential it would require other investments as well.
Mark Nahorniak from Oxford Properties elaborated - "I used to be in charge of a range of buildings that were built from 1912 to 2017, and it becomes about taking advantage of the digital twin, or smart and connected buildings in order to realize savings and control. I looked at the capital plan for the building and came up with the structure that allows me to start putting the fibre backbone in now - so as my capital expenditures come out for HVAC controls, lightings, security upgrades, video upgrades etc - I can take advantage and start to leverage those onto the base building network, which future proofs the building."
"By doing this slowly over time, I'm keeping my future capital expenditures in mind by doing this one upgrade first. It's going to continue to grow - as a building changes things are going to be taken out and added in, its going to affect everything from the parking rate board, to directories to what's happening now, to people counters, to security access control and video, lighting, and anything else coming in the future. When you start looking at older buildings by leverage, what you have, and putting a smart investment system in front of it thats when you gather the data and get smarter."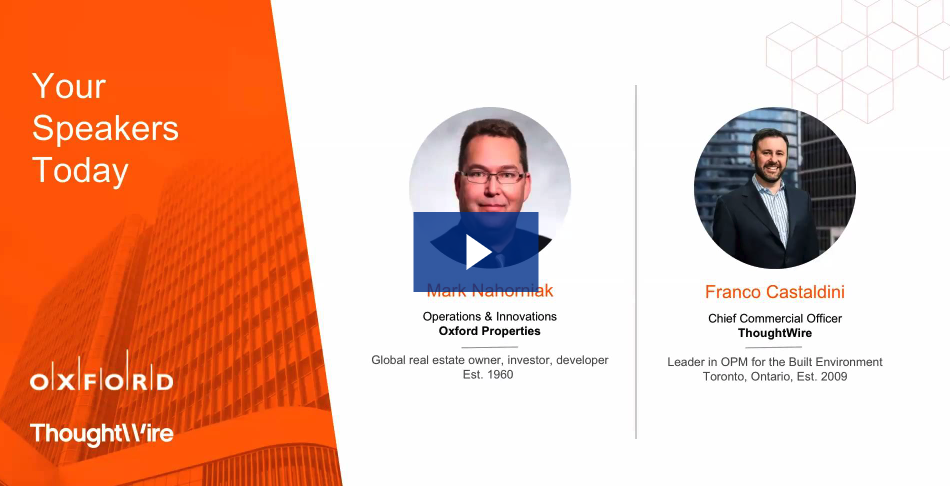 To watch the full webinar with ThoughtWire and CRETech - click here.