Former GE executive and startup CEO Kevin Collins brings his Industrial IoT expertise to ThoughtWire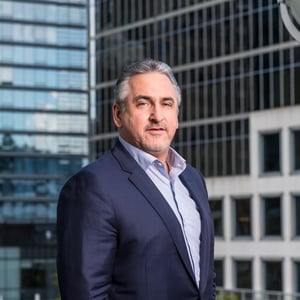 TORONTO, Nov. 08, 2018 (GLOBE NEWSWIRE)
Thought
Wire
, the leader in Operations Performance Management (OPM) for built environments, announced the addition of Kevin Collins, former co-founder and CEO of Bit Stew and GE Digital execu
tive, to its board. As board observer, Kevin will work with ThoughtWire to advance their positioning and go-to-market strategy, as well as accelerating strategic partnership developments with OEMs and cloud vendors alongside ThoughtWire Executive Vice President Dale Hall.
Kevin's success with Bit Stew, a leader in data intelligence for the Industrial Internet acquired by GE in 2016, positions him as a visionary on the topic of data intelligence – a key driver to the success of commercial IoT initiatives. He will act as a resource for ThoughtWire's continued advancement in commercial IoT and guide future growth, applying industrial IoT best practices, such as digital twins, to improve their deployment success and business ROI.
"Kevin bring years of experience advancing companies in the industrial IoT space and a deep understanding of data intelligence to ThoughtWire that we can leverage with our customers and applications to provide them with better business outcomes," said Mike Monteith, CEO of ThoughtWire. "His experience in the industrial IoT space will be invaluable as we grow our partnership ecosystem in support of a growing list of customers that are deploying IoT in the built environment where OPM offers not just powerful insights but automates workflows and outcomes."
This addition to ThoughtWire's board comes on the heels of ThoughtWire's introduction of two application suites for commercial real estate and healthcare providers. These applications leverage digital twin technology to provide contextual insights beyond the physical assets, by incorporating historical data to help orchestrate people, processes and things.
For more information on ThoughtWire, visit www.thoughtwire.com. Follow ThoughtWire on LinkedIn and Twitter.
About ThoughtWire
ThoughtWire is the leader in Operations Performance Management (OPM) software applications for built environments, helping hospitals and commercial buildings operate more smartly, safely and healthily. Since 2009, ThoughtWire has been changing how we think about intelligent automation and process optimization, beginning with its award-winning Ambiant™ platform, developed to interconnect and orchestrate people, data and things in real time. Today, ThoughtWire's innovative applications empower built environments to connect previously unconnected systems, unlock high-value outcomes for patients and tenants, and put people in control of process change and optimization.