ThoughtWire and Oxford Properties recognized as finalists in the 2019 Realcomm Digie Awards. ThoughtWire is nominated for "Best Tech Innovation Intelligent Building" and Oxford is nominated for EY Tower "Most Intelligent Building Project - Office". Winners will be announced on Thursday June 13 during the Realcomm/IBCON conference in Nashville.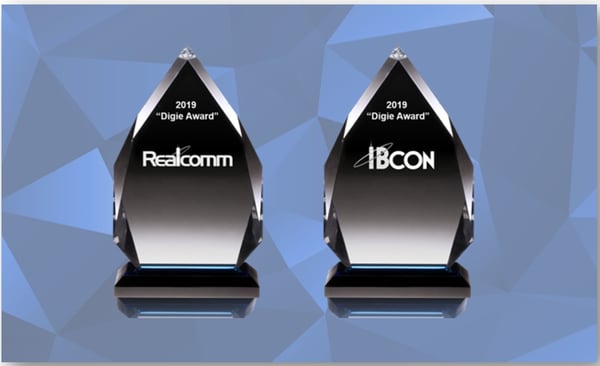 Realcomm has been presenting the Digie (short for Commercial Real Estate Digital Innovation) Awards since 1999 to recognize those outstanding companies, real estate projects, technologies as well as the people who have gone "above and beyond" to positively impact our industry through the intelligent application of technology, automation and innovation.
We're excited to announce that ThoughtWire is a finalist in Realcomm's 2019 Digie Awards in the Best Tech Innovation Intelligent Building category. We are honoured to be in such great company with leading organizations like Microsoft in this category. This award will recognize two of the most innovative new ideas/technologies/products/services for the smart, connected, high performance, intelligent building marketplace.
While being nominated as a technology vendor is gratifying what is more important to the ThoughtWire team is that our customers receive recognition for delivering intelligent buildings that change the lives of people who show up to their office everyday. We would like to congratulate our customer Oxford Properties for being nominated as the "Most Intelligent Building Project - Office" for EY Tower in Toronto. "This award will go to those extraordinary examples of buildings, projects and communities that best demonstrate smart, connected, high performance intelligent building concepts".
Learn more by reading the full announcement on the Realcomm website.