We're excited to announce that ThoughtWire has been recognized by Verdantix as a Smart Innovator for Digital Twins in Buildings.
This report provides real estate and facilities management executives with an assessment of emerging Digital Twin Technology for buildings and facilities. Based on Verdantix analysis of market-leading digital twin vendors, this report reviews:
What defines a Digital Twin software platform today

Core usage scenarios

The maturity of the Digital Twins for buildings market
Bringing strength in Digital Twin to the forefront
Our strength in data management and user experience were also highlighted in this report. Verdantix positions Digital Twin and Visualization as an area of strength for the company.
"Demonstrated by their strong foundation in healthcare, ThoughtWire understands the challenges of managing data in complex environments to drive real-time outcomes. With their Digital Twin foundation, real estate teams can enjoy the same benefit, turning disparate building and occupant data into insights and action." Dennis Callaghan, Principal Analyst, Verdantix
It's great to see momentum continue to build for Digital Twins in buildings. Digital Twins as a design pattern has many benefits to offer and is much more than just a digital replica of a building. Verdantix defines a Digital Twin for buildings as: "a digital model of a building or facility which replicates the facility's physical properties, systems and processes, and simulates its performance using real-time and historical data from many sources – such as plans, sensors, building equipment, staff badges – and a comprehensive analysis toolkit – such as graph databases, physics-based models, reduced form FEA models, machine learning models – to enhance operational decision-making and automation for that facility."
"Perhaps some of the most compelling benefits to date are for complex facilities such as ThoughtWire's customers from the hospital sector – The Scarborough Hospital, RelayHealth and Hamilton Health Sciences. " Joy Trinquet, Analyst, Verdantix Smart Buildings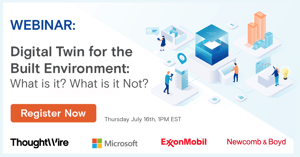 If you would like to learn about about Digital Twin Technology, please register for our Webinar and join industry experts from ExxonMobil and Microsoft as they discuss what a Digital Twin is, and is not?
As an organization that serves many industries such as healthcare, commercial real estate, and corporate real estate organizations, we empathize deeply with what our customers are going through at this moment. We're a technology organization, but for us people have always come first. If you need advice on where to start or how you can make the changes your organization needs to be prepared for the future, get in touch. Community is important now more than ever.