As we return from RealComm's CoRE Tech 2018 - one of the biggest CRE tech events of the year - we'd like to reflect on some of our thoughts and insights developed from attending the event and hearing from other speakers.
Commercial real estate (CRE) industry leaders are beginning to see the deeper value in technology driven solutions. While it is certainly important to differentiate between hype, promises, and what can actually be delivered today - there is great progress and excitement from the leaders in technology and real estate. An interesting theme emerged at this year's conference - a resounding recognition that a smart building strategy is nothing without a solid data foundation.
Leaders are focused on a well rounded and strategic approach to Smart Buildings and IoT that are underpinned by a clear data strategy that drives the ever evolving tenant experience and operational use cases. Maureen Ehrenberg from JLL called for companies to focus on what they can achieve now with the basics - to achieve business goals such as compliance, quality, and consistency - before focusing on far reaching use cases years into the future.
Our CEO, Mike Monteith, spoke about how companies in CRE technology can achieve mutual success with partners and customers by starting with people first and working backwards. This approach, which emphasizes focusing on end-user benefits first, allows the underlying technology, stakeholders, and the final product to be aligned with a more singular purpose.
Many IoT solutions have complex technology and systems that are impressive on paper - but fail to address the use cases or user experience that matters to customers. This is the key to bridging the gap between what's promised and delivered - and ensuring there is positive development in products with the customer in mind.
This was abundantly clear in the sessions over the two days at CoRE Tech with a call for everyone to keep striving for visionary use cases but still keeping the end goal in mind - it's not necessarily about the tech but how tech enables better experiences for operators and occupants of smart buildings. Srini Khandavilli from Intel asserted this thesis as well - stating that no clear data strategy leads to a lot of confusion, and you don't need ten different dashboards to make one decision.
The conference was an incredible opportunity to talk to thought leaders from both the corporate RE as well as owner and operators of commercial buildings. Through conversations at our booth and while getting demonstrations of our Smart Building Suite, we received a lot of validation for our approach to data integration and management. Our applications, PrecisionHub and @WorkApp help remove friction between operators and occupants in a building, but their value is driven by the Digital Twin or semantic data model that creates the relationships between people, systems and things.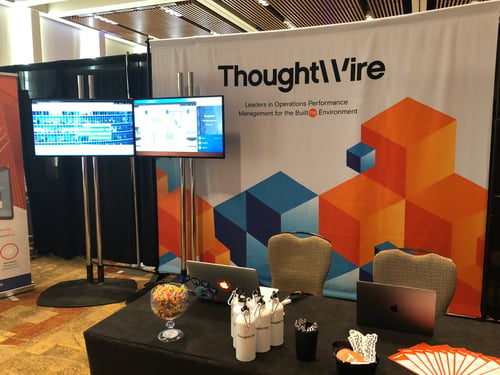 During his panel session on IoT Centric Buildings, Franco Castaldini, our Chief Commercial Officer discussed this topic - why do so many data and analytic projects, IoT implementations, and tenant experience apps fail? Or begin to collect dust? They lack a coherent and cohesive data strategy that will grow with the organization.
Take the data lake for example, Sabine Lam very aptly warned organizations to prevent their data lake from becoming a swamp, and Franco offered the Digital Twin as a solution to the problem. The semantic relationships and organization of data from both operations, IT and people creates a solid strategy to then drive use cases, analytics and more.
This creates endless potential use cases within the real estate environment - which are steadily rising as our product is deployed and developed. Asset optimization, predictive maintenance, energy efficiency, and tenant engagement are all possible today by connecting your existing subsystems with Operations Performance Management.
We're excited to further connect with all of those who we met, and continue our mission to make the built world we live in more connected.