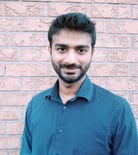 April is Diversity and Inclusion month at ThoughtWire, where we support the diverse and inclusive practices that help create an innovative and sustainable company. In celebration of this theme, we highlight Tony Baby, Senior Data Analyst. Tony's broad and exciting career path has led him to ThoughtWire, where he actively supports our mission of creating a safe, inclusive, and thriving working community.
What has your career path looked like?
Recently, I came across this idea of thinking about your career in decades rather than years. If you are relatively new in your career, they are good reads. My career has been a bit like that in that I have changed all 3 pillars of my job – location, function and industry. I started off as an application developer at Oracle in Hyderabad, India after graduating as an engineer. My first stint in analytics was as an intern at Dun & Bradstreet after my first year of MBA from the University of Texas at Austin, in the US. I went on to become the director of digital marketing analytics practice. Now, I lead the data science and analytics practice here at ThoughtWire.
Please share with us what diversity, equity, and inclusion means to you, why they're important and how you think TW approaches it?
People are different and have different perspectives. In my experience, a team with different perspectives to a problem can unearth the best solution quickly and easily. Welcoming diversity is not only good for the people involved, but also for companies. A study by the International Labour Organization noted that inclusive companies were more innovative and attuned to customer needs. ThoughtWire ensures that it presents a fair and inclusive environment where people can come together and do their best professional work, while being true to their personal identity.
Can you give an example of how you make your direct reports feel a sense of inclusion, belonging, and equity on a daily basis?
I follow ThoughtWire's lead and try to foster a sense of psychological safety in my team. Scrum ceremonies like daily scrum and sprint review present regular opportunities to showcase the value of constructive feedback. It is always the idea that is discussed, never the individual who brings it up.
How do you feel about the growth of the data team and the company in general?
Very good. I think we are doing some exciting things and are headed to the hyper-growth stage.
What has your experience been like transitioning from a Data Analyst to a Senior Analyst?
Like any high functioning company, ThoughtWire values its employees. I consider myself very lucky to have found myself surrounded by collaborative and supportive colleagues. Trust me when I say it is easiest to get good work done when you have all the necessary support – functional or technical. Getting promoted feels more like a positive side effect of being able to deliver impactful projects.
What do you want to achieve with your career, and how has ThoughtWire helped you in that journey?
I am a believer in technology's ability to better the lives of people. As a technology worker, I want to develop tools to do exactly that. ThoughtWire is a company where I can help develop software products that help save lives in hospitals, reduce carbon footprint in offices and build better cities. ThoughtWire is making the world a better place and as someone who wants to leave a better world behind for future generations, that is all I can ask for.
Tony's experience in his career, and being able to hone his interests at ThoughtWire, prove how implementing diverse and inclusive business practices can foster a diligent and impassioned community; helping everyone to complete work they are most proud of, and represent a company with values they believe in. Looking for a place where you can also contribute, innovate and be inspired? We think you'll love it here. Check out ThoughtWire's career page.