An internship holds more value than just contributing to college credit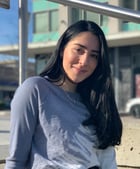 s. Internships allow you to discover what you want to do, gain relevant experience, and even secure full-time employment.
Today, we highlight Eitab Dabbous who shares with us all that she has learned while transitioning from an intern to a full-time employee at ThoughtWire.
How did your career evolve with ThoughtWire?
I started working at ThoughtWire during the summer of 2020 as a Customer Success intern, then transitioned to a part-time Technical Support Specialist in October while I wrapped up my final semester at school, to my current role as a full-time TSS in January 2021.
Describe a day in the life as a Technical Support Specialist in Customer Success?
I've learned that a Technical Support Specialist wears many different hats! A typical day involves responding to internal and external requests, and assisting with any troubleshooting as well as creating and updating support documentation.
How did your educational background/co-op experience prepare you for your full-time position? What made you apply to our intern role?
I feel like my educational background set me up for success by providing me with opportunities to gain fundamental skills such as problem-solving, communicating with others, and being resourceful while my time as an intern at TW gave me the chance to apply these skills and build on them, and the encouragement to dip my toes in areas that I hadn't been exposed to. I applied for the Customer Success internship because I liked the work that TW was doing and felt that I could contribute and grow my existing skills, and learn more about cloud technology.
What are the benefits of staying with an employer from an intern to full-time? What has this experience been like for you?
One of the benefits is observing your own personal growth and development throughout your journey, and reflecting on everything you've learned and accomplished. I think it's very motivating to be able to look back on where you started and where you are currently with an employer because it shows that there's opportunities for growth and that your team is invested in your learning. Overall, my experience has been seamless - it felt like I was picking up where I left off when I joined the team on a full-time basis.
What attracted you to stay at TW after your internship?
The people, collaborative culture, endless opportunities to learn, and mentorship. I felt like a member of the team from day 1 of my internship, and was given a variety of challenging and meaningful tasks to tackle. I also had the support and guidance from the team anytime I needed it as well as the freedom to explore different things and to tailor tasks to my interests. I was definitely interested in staying at TW after my internship because of the impactful work being done and because the company values aligned with my own.
What advice would you give to others who are looking to transition from an internship position to a full-time role?
My advice is to treat your internship like an audition for a full-time role. Be curious - take a genuine interest in learning about the company, the work you're doing and the reasoning behind why you're doing it, and ask questions. Be open to giving and receiving feedback, and make an effort to get to know your colleagues. Near the end of your internship, reflect on what you've learned and accomplished, and what your career goals are. Make sure to express these to your manager and convey interest in pursuing a full-time opportunity.
What are your future career goals, and how do you see ThoughtWire enabling this?
I would like to become an expert in my role, be a mentor to others as well as be more involved with different areas of the business. TW makes this possible thanks to its collaborative culture and the everybody's willingness to share their expertise and perspective.
Securing a full-time position after an internship is all about making connections, working hard, and enjoying yourself. Finding fulfillment in what you do and being able to see a future for yourself in a company, will help to carve the path for full-time employment. Looking for a place where you can truly contribute, innovate and be inspired? We think you'll love it here. Check out ThoughtWire's career page.