ThoughtWire will be sponsoring this year's CoRE Tech conference November 14-15 at the Santa Clara Convention Center, visit us at booth #34.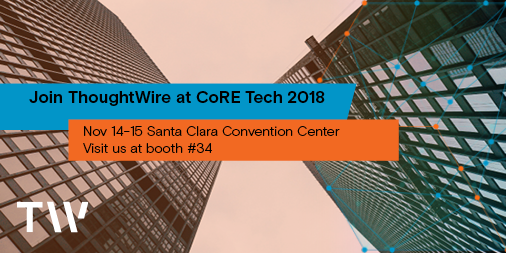 CoRE Tech is a leading conference on Corporate Real Estate technology, automation and innovation - being held in Silicon Valley. This year - CoRE Tech's theme is "The Age of Acceleration: Navigating the Impacts of Technology on Corporate Real Estate and Facilities". With the industry being rapidly disrupted as discussed in our previous CRE blog, the theme is focusing on new technology, disruptive strategic initiatives, and groundbreaking changes to CRE business models.
IoT and Smart Building technology initiatives are growing in adoption and technical capabilities - industry professionals are tuning in to see what the hype is all about - and what can actually be delivered today. CoRE tech will bring together industry leaders and technology vendors to understand the impact of these digital strategies, as well as collaborate and share ideas.
ThoughtWire is an education sponsor at this years event and we're excited to engage with visionary Corporate Real Estate and Facilities leaders about our innovative OPM applications. PrecisionHub and the @WorkApp provide real returns by improving operational efficiency, improving employee productivity and ultimately helping you hire and retain top talent.
Fill out the form to schedule some time with us at the show to make sure you get to see a full demo of our Smart Building Suite applications: PrecisionHub and @WorkApp
Visit us at booth #34 to meet the TW team