The commercial real estate industry is ripe for disruptive innovation. Due to a variety of trends beginning to emerge, CRE firms are beginning to explore investing in digital technology. The line between growing real estate firms and technology companies is becoming blurred, and existing real estate giants are being forced to begin a digital transformation if they wish to stay competitive during the next wave of innovation. There are many strong reasons why companies should invest now, rather than later.
Who are the primary disruptors of commercial real estate? Companies such as WeWork - a technology based real estate firm - is selling the idea of "space as a service". Smaller companies, freelancers, and enterprises are ditching traditional office spaces and are lured in by shorter term leases, trendy decor, and up-to-date technology in the workplace. Backed by global powerhouse SoftBank group - WeWork has a current valuation of $20 billion, and is beginning to rapidly expand across the commercial real estate market.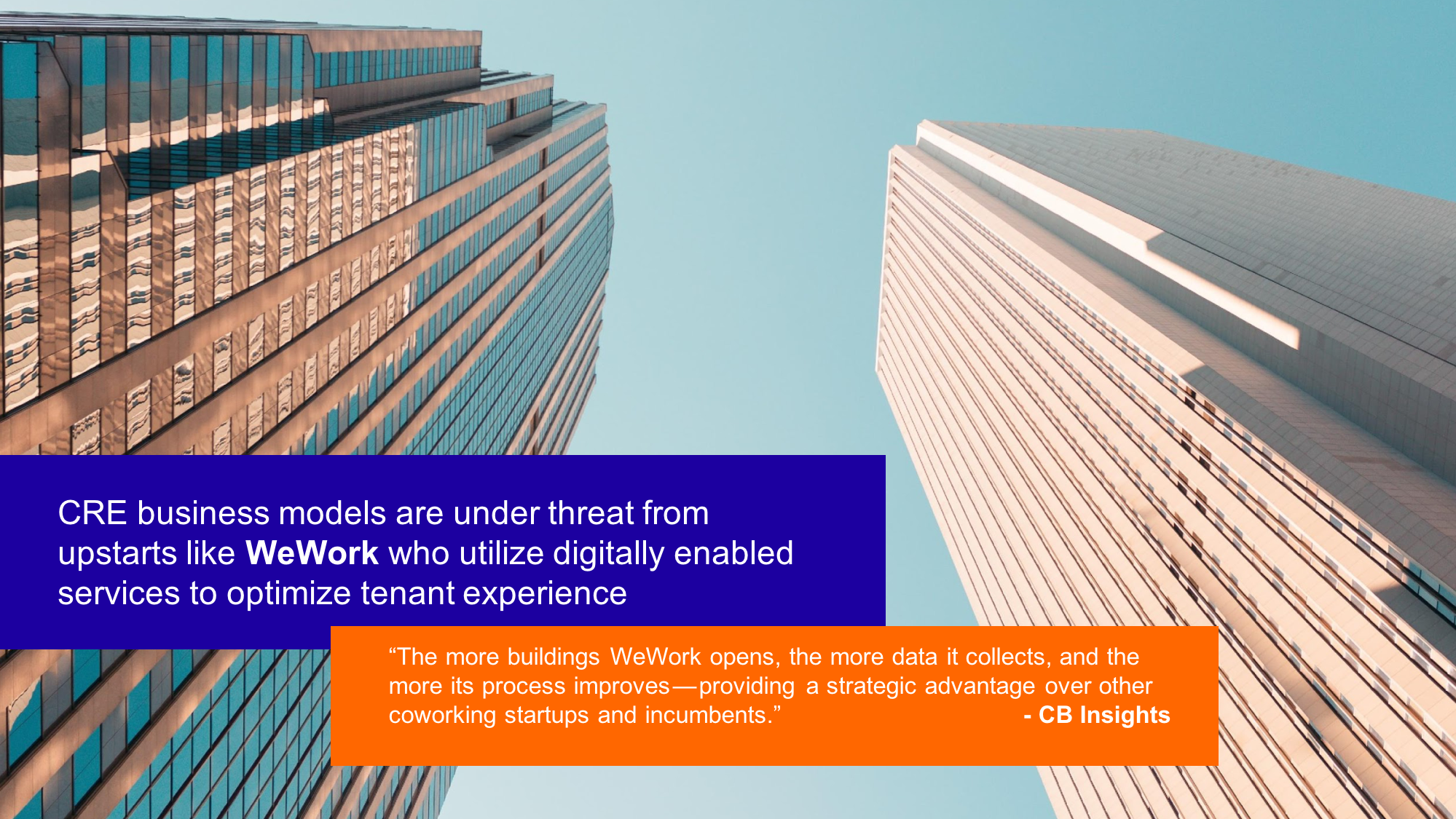 WeWork uses technology such as 3D mapping, sensors, and other Internet of Things (IoT) technology to monitor energy usage, office space workflows, and ongoing projects within their built environments. It seems to be working - the eight year old company now boasts 216 locations in over 19 countries. Professional real estate demand is expected to decline as more of the workforce transitions to flexible hours, work from home policies, and a distributed locations. Tweet this!
Digitally enabled transformation technologies have taken the industry by storm, and real estate firms are implementing more technology-based solutions to improve tenant retention, satisfaction, manage energy usage, and get better control over their built environments. Lack of perceived ROI is a barrier to many commercial real estate firms - which should not be the case. The price you pay for the technology is quickly returned in the form of preventing equipment failures, costly system replacements, responding to emergency events, and automating routine workflows. It is unfortunately all too easy to imagine a scenario where a smart building technology could save lives in the case of security lockdowns, building fires, and medical emergencies.


If smart building and other technology integrations become industry standard (as they are very quickly) then the real estate companies thinking in the short term will be left behind by those investing in the value of their assets. As technology continues to be adopted in CRE and business models are disrupted the future will likely see the scenario where smart buildings will simply be referred to as...buildings. In other words, the expectations are adapt to thrive or ignore it and die.
In Toronto - Tridel Condominiums has begun it's own digital transition - implementing smart building technology called "Tridel Connect" in a 69 story community at Ten York. The aim is to improve tenant satisfaction and make workflows within the building more convenient. Oxford Properties implemented smart building technology at the EY Tower, which is seeing returns in the form of energy usage reduction and automating and orchestrating workflows between tenants and building management. Another notable build, by Menkes Developments, was the first to pave the way for smart cities in Toronto at the Telus Tower on 25 York Street.
With companies such as Google co-founding Sidewalk Labs Toronto and Schneider Electric funding the opening of Ryerson University's "Smart Building Lab", it is glaringly obvious the smart building race has begun. What can existing commercial real estate firms do? There is certainly a lot of noise in the IoT and smart buildings space - but emerging IoT fields such as Operations Performance Management emphasizes a "people-first" approach that drives real results unlike device-centric data analytics that fail to provide the context required to unlock real outcomes. Don't be afraid of innovation - find a complete smart building system that breaks down siloed systems to lead to complete and synchronized operational efficiencies.
Companies that choose to invest in innovation now will be rewarded for their efforts. Now is the time to pave the way for the future of commercial real estate - it's always better to be the early adopter than the company who is left behind.
If you're ready to see what ThoughtWire's Smart Building OPM suite of applications can do for you - we'd love to provide your firm with a product demo of our smart building suite, and a unique ROI projection workshop.