There are many misconceptions floating around about what a 'Smart Hospital' truly entails. The term 'smart' has become synonymous with 'automated' or 'digital devices'. However, the truth is, adding technology, devices and sensors doesn't necessarily make a building 'smart'. And, in some cases, digital innovations are being forced in hospitals, without really thinking through the ramifications.
This situation has led to a host of complexities and contradictions. For instance, on the one hand, there are mounting expectations for hospitals to adopt digital technology, yet on the other hand, there are growing concerns that digital health solutions are creating more disparate ecosystems. Similarly, although hospitals are facing increased pressures to achieve a real-time health system, they're hindered by the siloed nature of their operating models or interoperability issues that surround various health information systems.
These conflicting pressures have signalled a need for a more coordinated, integrated and holistic approach to digital transformation -- one that brings systems together and considers implications from all perspectives.
Enter the smart hospital digital twin, a technology that's proving to offer a viable means to solve these mounting challenges.
Over the past several years, digital twins have evolved significantly and emerged as a technology to get excited about. Yet, while there has been much hype around digital twins, there is still considerable confusion around what a digital twin is (and is not) and whether it will live up to its promises. Like many new technologies, digital twins are battling their way through the 'trough of disillusionment' and are, in some cases, being mischaracterized.
In this article, we'll address this confusion head on by answering these six critical questions:
What is a smart hospital digital twin?
How do smart hospital digital twins work?
What problems do smart hospital digital twins solve?
What are the benefits of a smart hospital digital twin?
How are smart hospital digital twins being used?
What is the future of the smart hospital digital twin?
Much like other disruptive technology that gets introduced to the healthcare world, a high degree of scrutiny should be applied to digital twin technology -- especially since it can directly impact a patient's lifes. By being well informed, you can decide for yourself whether this technology is simply hype or true disruption.
What is a Smart Hospital Digital Twin?
To answer this question, let's start by looking at what smart hospital is. A smart hospital is a hospital that's 'connected,' or IP-enabled, and able to send information from its core infrastructure systems either via a building management system (BMS) or internet of things (IoT) sensors over common protocols. In other words, it's a building that's ready to unlock the value of the data it generates.
While few hospitals have truly reached the status of being 'smart', primarily due to a lack of full integration or interoperability, the following systems are examples of systems that are moving hospitals the right direction:
Patient Flow and Throughput Systems

Advanced Security Systems

Automated Telemetry Monitoring
Advanced Scheduling Systems
Next, let's define the term digital twin. Gartner defines a digital twin as, "a digital representation of a real-world entity or system. The implementation of a digital twin is an encapsulated software object or model that mirrors a unique physical object, process, organization, person or other abstraction."
It's important to note that a digital twin is not merely a visual mock-up or 3D visualization of a physical environment. Instead, a digital twin acts as a bridge between the digital and physical worlds, using connected sensors and IoT devices to collect real-time data about physical items, software systems and interaction between people. (For example: an ADT and EMR feeds infection status of a patient on admit to an HVAC/BMS system, enabling the negative airflow to create a negative pressure room.) The data that is captured by the digital twin can then be deeper analyzed to understand how it can best be used to augment the existing environment.
Traditionally, digital twins were used to replicate single assets, like engines or turbines. However, in recent years they've grown to become more complex and now often connect systems of assets or even entire organizations. Although digital twins haven't been used in healthcare environments yet, the expansion of the digital twin means that they're now being deployed for a variety of new use cases and across a variety of industries. In fact, Gartner reported that 13% of organizations implementing IoT projects are already using digital twins, and another 62% are in the process of planning or establishing a digital twin.
How do Smart Hospital Digital Twins Work?
A smart hospital digital twin brings together data from subsystems and real-time interactions between people, process and connected things. It provides a contextual model of the past, present -- and, as AI/ML evolves, potentially even predicted future states -- of a hospital that can be manipulated, analyzed and optimized. This data can also be exposed to various interfaces, applications and systems to truly make a hospital 'smart' through awareness.
In order to implement a smart hospital digital twin, four key enabling factors are required:
Data. Data from across the entire smart hospital is needed, such as data about people, processes, connected devices, operational building systems, Hospital/Clinical Information Systems and external health systems.
Context. Context includes real-time information about the actual state of the hospital, the people within it and their interactions between each other. The key element here is capturing the current status of people, systems and things and making them more visible.
Reasoning. A method for applying reasoning to data is needed to drive action. Most commonly, reasoning is based on asynchronously processed rules, artificial intelligence (AI) or machine learning (ML) models, or temporal reasoning for varied frequency of events.
Key Performance Indicators (KPIs). KPIs are required to provide meaningful business context and to ensure alignment between hospital objectives and performance measurement.
In this way, smart hospital digital twins help create what Gartner defines as a real-time health system, which is the desired future state for the digital transformation of healthcare delivery organizations. A real-time health system uses technology to unlock better outcomes for patients and healthcare organizations by enabling intelligent operations, real-time analytics, real-time orchestration of information and improved overall situational awareness.
What Problems do Smart Hospital Digital Twins Solve?
Digital twins are exciting because they provide a way to tackle healthcare's 'wicked problems' in a way that's no longer just about addressing symptoms, but instead approaches the entire environment holistically. Additionally, digital twins can be used to improve efficiencies, optimize processes, detect problems before they occur and innovate for the future.
Some common 'wicked problems' hospitals face today include:
Long wait times
Downtime (not optimized uptime) on medical facilities and devices - DI
Transcription and translation errors
Poor interdisciplinary communication or coordination
Budget and staffing issues (often related to fluctuating patient acuity demands)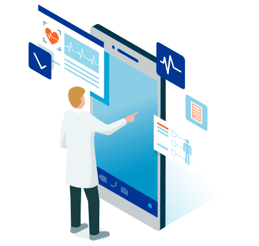 When up against these challenges, more hospitals are turning to real-time health systems to help solve their problems holistically. In fact, some digital twins can be used to detect patient and workflow problems before they occur, improve operational efficiencies, optimize processes improve patient experience, reduce staff burnout and create better patient outcomes through a unified real-time model. This contrasts traditional models, like Message Broker or Enterprise Service Bus (ESB), which uses different models, depending on application needs, to send and receive rapidly changing patient data.
Smart hospital digital twins also enable greater clarity into past, present and future hospital performance and provide recommendations on how to improve outcomes. This can be understood as:
Past - Rewind time to view high resolution historical data and create smart benchmarks.
Present - Interact with your real-time operational environment of people, process and connected things​ and drive better outcomes.
Future - Predict the future states and proactively adjust as needed.
What are the Benefits of a Smart Hospital Digital Twin?
Today, data in most hospitals is siloed. Data repositories for operational information and patient data lack any meaningful integration and the proliferation of data generated by IoT devices only exacerbates the problem. Many hospitals want to be more data-driven and value based, with less siloed, but they often lack the tools to derive meaningful insight from their disparate data sets.
A smart hospital digital twin provides a new way of modeling, managing and actioning data from hospitals. The benefits of a smart hospital digital twin can include:
Enhanced patient experience
Optimized resource utilization
Improved clinical outcomes
Lower facility operating costs
Enhance safety
Reduce energy consumption
In fact, digital twins allow hospitals to achieve a real-time health system by:
Analyzing the whole picture in real-time. Hospital management can examine the complete hospital environment – from data to workflows to patients to clinicians.
Taking immediate action. If a patient's condition is deteriorating or there is an emergency on a certain floor, the right action can be taken in real-time to respond.
Tracking and improving. Context-rich semantic linking provides a picture of the past, present and future state of the hospital.
How are Smart Hospital Digital Twins Being Used?
Digital twins have matured significantly in the past several years, making them well suited for use in hospitals. In fact, since hospitals are full of "connected" or "connectable" things that can be unified in a digital twin, the technology has opened up incredible opportunities for solving big challenges facing healthcare today.
A good example of where digital twins are being used in hospitals is at the organizational level. By creating a digital twin of a hospital, hospital administrators, doctors and nurses can obtain powerful, real-time insights into patient health and workflows. Using sensors to monitor patients and coordinate equipment and staff, digital twins offer a better way of analyzing processes and alerting the right people at the right time when immediate action is needed.
Furthermore, digital twins can be used to address 'human middleware' issues, interoperability issues and 'hidden or locked data' issues. Digital twins do this by transforming workflows that traditionally rely on linear transactional interactions into ones that can be done through parallel processing. For instance, digital twins allow hospitals to use an input from a sensor to kick off a notification automatically, rather than waiting for a user to manually trigger the notification.
As a result, emergency room wait times can be reduced and patient flow can be improved, decreasing operational costs and enhancing the patient experience. One hospital measured a 900% improvement in cost savings after implementing digital twin technology to remove bottlenecks in patient flow and bed management.
Moreover, digital twins can predict and prevent patient emergencies like cardiopulmonary or respiratory arrest, known as code blues emergencies, resulting in more lives saved. In fact, one health care network that implemented digital twin technology in their hospitals saw a 61% reduction in code blue events.

What is the Future of Smart Hospital Digital Twins?
Digital twins offer both live-saving and cost-saving possibilities for smart hospitals by taking a real-time, people-centric approach to solving problems and by creating long-term value. For hospitals that already use BMS or IoT systems, the digital twin is uniquely positioned to be a strong foundation for ingesting AI/ML models in the evolution of detecting and predicting adverse events in the hospital.
Digital twin technology shows no sign of slowing down. This is because digital twins have already proven that they can deliver real value in the built environment. In fact, Gartner reports that by 2021, half of all large industrial companies will be using a digital twin, and that those organizations will gain a 10% improvement in effectiveness over current approaches.
If your hospital is interested in achieving a real-time health system and creating better outcomes for everyone, smart hospital digital twin technology is well worth considering as part of your digital transformation strategy.