After more than a month of working from home, and watching mainly negative attention on COVID-19, I have started to realize perhaps it could have some other positive impacts too. As a sociology student, I often think about the significant impact COVID-19 has created in our society. The pandemic has undoubtedly been a difficult time for many of us, yet to think about it optimistically, allows us to reflect and improve on ourselves. In this blog, I wanted to share my perspective and hopefully shine some positivity and brightness to you all. When we come together as a team, it's incredible how beautiful and powerful we become.
It's strange that despite all the social distancing that is occurring, the sense of community is only growing stronger. People around the world are uniting to tackle this glo
b
al pandemic issue. In my point of view as a Gen Z, it is rather disheartening to see that people are only willing to take action when it
b
e
comes this severe. For example, the issue of
global warming in our environment
. Even though we are aware that this pro
b
lem is getting worse, most of us seem not to consider fixing the pro
b
lem collectively. Our mindset was focused on ourselves, how we contri
b
uted individually, like using a metal straw or actively recycling.
B
ut in fact, we can make a difference if we are united in this fight as is apparent with the current situation.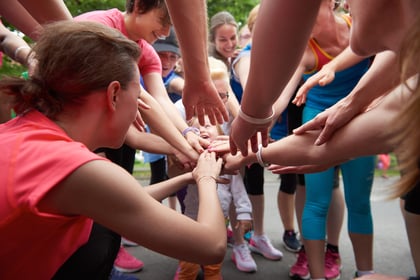 During this pandemic, we started to practise social distancing by staying at home to protect each other. We do this for our loved ones and our community. We learn to show gratitude and treasure not only the presence of our loved ones, but also the hard work of doctors and nurses who fight to protect and save lives in hospitals. We start to appreciate people such as construction workers and food delivery people that often go unnoticed. It seems to me that we feel more connected with each other and the feeling of belonging in the community has become stronger during this time. Things like "we are all in this together" are seen everywhere. I no longer hear people emphasize the word "I" but rather "we" in our conversations. This shows how we can positively influence each other during difficult times.
I used to think technology pulls people's relationships apart, but it seems like it brings us together and in some cases can even save lives. Technology wasn't as advanced a decade ago, and thanks to constant innovation, we can now use video conference calls to work remotely with our team, attend classes online, and spend time together virtually. It is truly amazing how technology as a tool helps us stay connected.
Technology not only helps protect us during pandemics but also contributes to tackling environmental issues. For instance, smart technology in buildings can allow tenants to use their mobile devices to control most of their surroundings, such as the elevators, HVAC and access to the building. These "contactless" buildings help to ensure that we are in a comfortable and clean space. Another feature of a smart connected building is that it can generate analytics for building operators to monitor and optimize energy use. This allows them to take control and prevent problems before they occur. Technology like this not only helps to reduce unnecessary expenses but also our carbon footprint allowing us to not only address the current health issues, but simultaneously work on global warming as well.
COVID-19 has enabled all of us to express our emotions and share our experiences like never before. By using technology as a tool we can drive innovation, we will get through this difficult time together. It is to our control to be more prophylactic on global issues, like global warming, so that problems are solved before it reaches too severe.
As an organization that serves many industries such as healthcare, commercial real estate, and corporate real estate organizations, we empathize deeply with what our customers are going through at this moment. We're a technology organization, but for us, people always come first. If you need advice on where to start or how you can make the changes in your organization needs to be prepared for the future, get in touch. Together, we are stronger.