During our recent webinar, we asked our attendees a series of poll questions that cover three themes: the immediate impact of the pandemic, return to work plans and what the long term implications will be on CRE Trends.
Our attendees consisted of Corporate Real Estate leaders; Corporate Facilities Managers; Technology / Innovation leaders and CIOs. Below are some great insights on how they are tackling the immediate impacts of the pandemic as well as what their long term strategies look like.

Theme 1: Immediate impact of the pandemic - Reactionary measures
Does your building have a health risk screening process and policy in place for employees/contractors still working on-site?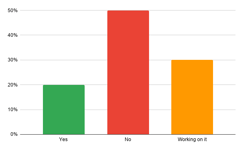 Yes (

20%

)
No (

50%

)
Working on it (

30%

)
Have you updated contractor remote access policies since the shelter-in-place orders?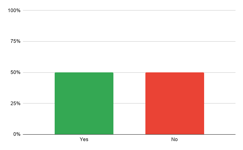 These results are in line with what we have heard from other industry leaders when discussing what policies they are able to implement right away and what areas they still need to work on. Those who have not adjusted yet will need to implement the appropriate policies and procedures quickly, to not cause any further disruptions or health risks to their employees and contractors.
Theme 2: Return to work plan
Are you planning to reduce sq. ft. in your portfolio as a result of the pandemic? (i.e. reduce densification and keep more teams remote)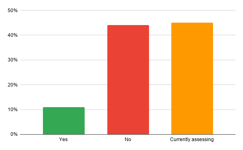 Yes (

11%

)
No (

44%

)
Currently assessing (

45%

)
This question is sure to stir some debate in the coming months, as there will need to balance between how densely a space can be occupied versus the safe distance we need to keep from each other in order to stay healthy.
Theme 3: Lasting impact on CRE trends
How is COVID-19 impacting your long term Real Estate strategy?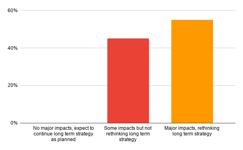 No major impacts, expect to continue long term strategy as planned (

0%

)
Some impacts but not rethinking long term strategy (

45%

)
Major impacts, rethinking long term strategy (

55%

)
Are you reassessing your long term IT risk management strategy as a result of the pandemic?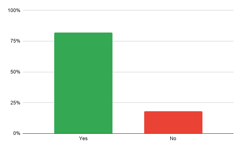 From the answers we received, it is pretty clear that there will be a lasting impact on CRE as a result of the pandemic. Medium and long term strategies will need to be reviewed and adjusted to adapt to the "new normal". Investments in technology that allow for remote operations and cybersecurity software will be key to ensure that your organization can run smoothly without any additional risks.
Watch the full webinar on-demand here, or listen to the podcast below.
As an organization that serves many industries such as healthcare, commercial real estate, and corporate real estate organizations, we empathize deeply with what our customers are going through at this moment. We're a technology organization, but for us people have always come first. If you need advice on where to start or how you can make the changes your organization needs to be prepared for the future, get in touch. Community is important now more than ever.