ThoughtWire is like a big family, complete with eccentric uncles, and our customer projects are like our children.
We take care of them when they're little and help them grow while they learn to do more and more in the world, and then support them when they get into trouble out there. Ask any parent, and they'll tell you they love all their children equally. Ask them when the kids are out of earshot, and you might hear a different story. My parents had a favourite for sure, but that title changed hands once they learned I was giving them a granddaughter -
take that, Shawn
.
We already asked them how they came to ThoughtWire and how it's changed since they started; today we're finding out from our veteran employees:
What's been your favourite ThoughtWire project so far?
Yang, Director of Customer Success: Probably the LTC project. I'm sure other teams have different favourites, but one of the main reasons I like LTC is working with a great partner like PointClickCare. They're easy to work with. Also we're able to help individual sites to improve their long-term care process, plus it's pretty easy to support overall. Every time we watch the graph of user numbers grow, that's always a win.
Jose, Distinguished Engineer: I have to say the EarlyWarning project with Hamilton Health Sciences, I was involved in some of the earliest meetings with the actual nurses who would be our end users. I got to sit in and see what their requirements were, it was very instructive. And then to be involved with it right from the beginning and see positive results - lives actually saved, awards handed out. It was extremely rewarding and something not to be discounted; there aren't a lot of jobs around, certainly none that I've had, where you can point to something and say "I contributed to something that literally saves lives" as opposed to "I improved key-clicks by 5% on that website."
David, Senior Software Engineer: I'd probably say implementing the Portering use case for because it was difficult and had it's head-banging moments and was extremely stressful, but the end result had some very good ideas put into it. And it's still being used right now, so I can point to it and say "I was the lead dev of the second phase of THIS project that's being used in the emergency room right now with real-life benefits."
Otherwise, less specific, just the growth of the Agents and the platform. Fiddling with all these things in the core and coming up with lots of different architectures, collaborating with everyone to come up with the best working Agent we could come up with. Conferring on all these ideas and how the platform could be expanded in the future. Like, "Oh what if we added this, and what if we added that, and it could get rid of these and improve that," and lots of exciting forethought.
Kiril, Software Engineer: The @WorkApp that I am currently working on. It connects the physical world with the virtual world, which I believe is the biggest void nowadays. This product challenges the limits of what you can do with physical "things" from your mobile device or computer, and allows me to work with numerous latest technologies, languages and integrations.
I also really value all the time I've spent in the past on healthcare-related products, especially visiting hospitals to support our users - nurses, doctors, and hospital IT. It was challenging at times, but since our applications play a really important role in improving healthcare in Ontario (and in Canada), it's also very rewarding.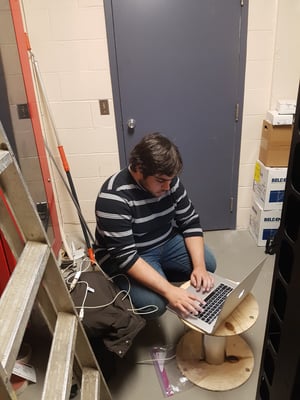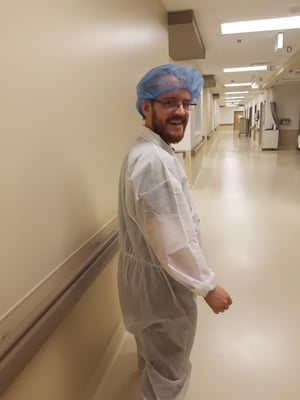 Check in later this week for another instalment of the #TWTURNS10 series to hear more stories from the early days of ThoughtWire. You might even see a few early photos - true gems from the startup scrapbook.