Who can say what the future will hold?
It could be a utopia straight out of science fiction; colonies on Mars, self-driving cars, another Stanley Cup win for the Maple Leafs, and a fifth line on the Toronto subway. Or we could all be battling each other for water in a post-apocalyptic wasteland. Maybe, if we really dream big and stretch our imaginations, we'll one day be able to edit our
tweets
after posting them. We just have to wait and see.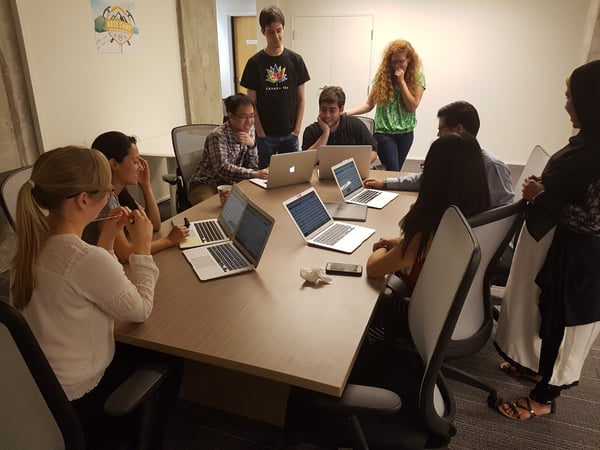 We've covered the past pretty extensively with our veteran employees: their beginnings, the big changes, their favourite projects and messages to their younger selves. Now let's look ahead to the future:
Jose, Distinguished Engineer: I've always wanted us to work on a project that would combine the aspects of our two main strengths: smart buildings and healthcare. Take a hospital and do it all, all the way from the building to whiteboards, nurse calls, patient information, that sort of thing. Also, the whole movement into larger scale and cities. The idea of helping first responders, again that's something where you can save lives, in a different way.
Yang, Director of Customer Success: That's a pretty hard answer... I would say integrating more AI work into our applications. Similar to what is being used by Amazon to a certain extent, would be kind of fun.
Kiril, Software Engineer: Taking mobile experience to the next level to make currently impossible things possible. Internet of Things continues to develop, changing how we interact with things around us. VR and AR, previously used mostly for gaming, open new possibilities for se cases. And the development of AI, will probably change not only our apps, but also how we work as developers.
David, Senior Software Engineer: Hard to pin down, but something with an even wider scope that everyone would notice. Healthcare is important, and has real consequences to it, but it's also kind of hidden. So, something that has exposure to the real world that everyone would see. So, oh, I don't know, suppose we got into... (sigh)... integrating live data from hockey games, so you'd have ThoughtWire systems at each rink, and be tracking all these things going on during the game. You'd be able to collect all that data and turn it into something significant that end-users could see as they're watching the game and follow player stats. It would be neat if we could get into that because that's something that the everyday person would see right in front of them.
Check in later this week for another instalment of the #TWTURNS10 series to hear more stories from the early days of ThoughtWire. You might even see a few early photos - true gems from the startup scrapbook.